The cauliflower pizza crust is a delicious gluten-free, low-carb, and keto pizza recipe. Freeze it for later or top it off with fresh ingredients for a healthy dinner recipe. Get it ready witin no time.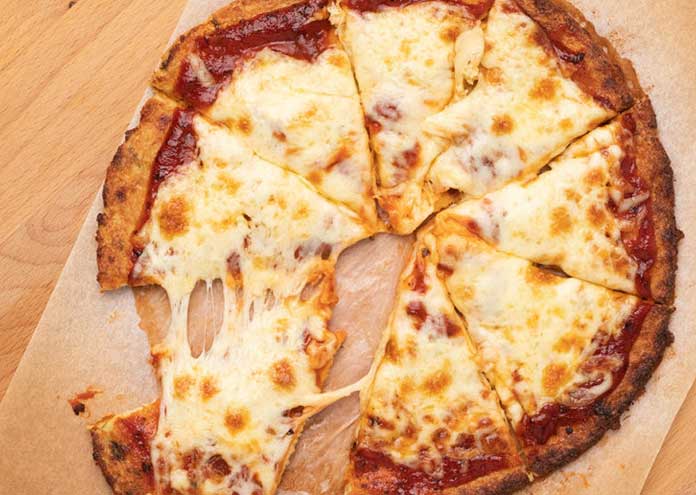 The Best Cauliflower Pizza Crust Recipe by Gimme Delicious
Who's ready to shed a few pounds this season? cauliflower pizza is great because it's low-carb and contains no flour whatsoever.
Cauliflower crust Pizza lifesaver if you are on a low-carb or keto diet and will help curb your carb cravings! it's also naturally gluten-free and can be made vegan by simply replacing the cheese with your favorite alternative.
Aside from how delicious this pizza is, it's loaded with nutritious cauliflower which is super HEALTHY and naturally high in B vitamins, antioxidants, and fiber which can help you lose weight!
WHAT IS CAULIFLOWER PIZZA CRUST MADE OF?
The crust is made of cauliflower, cheese, and eggs. However, you can customize the pizza any way you like to make your favorite type of pizza.
HOW TO MAKE CAULIFLOWER PIZZA CRUST
Here are the few steps for making this cauliflower pizza crust.
We are sure these few steps will well worth the effort and you will be glad you made it!
STEP #1:
Begin by processing (or mincing by hand) your cauliflower in a food processor.
After processing the cauliflower, place it in a microwave-safe bowl and microwave it on high for 4 minutes. After removing it from the microwave allow it to cool for at least 5 minutes, then place the cauliflower in a kitchen towel and squeeze away.
Make sure to get all the water out of it, like every last bit!
I squeezed my water how so hard Ithat ended up with an amazing ball of cauliflower.
Remember, the trick to making a perfect cauliflower crust is to squeeze out as much liquid as possible out of the cauliflower.
STEP #2:
Now place the cauliflower ball in a bowl and add an egg, 1/4 cup Parmesan cheese, 1/4 mozzarella cheese, salt, garlic powder (optional) rosemary and oregano. Mix it all in with a wooden spatula or your hands until a dough forms.
STEP #3:
Spread the dough out on lightly greased parchment paper or a pizza pan like you would with regular pizza dough.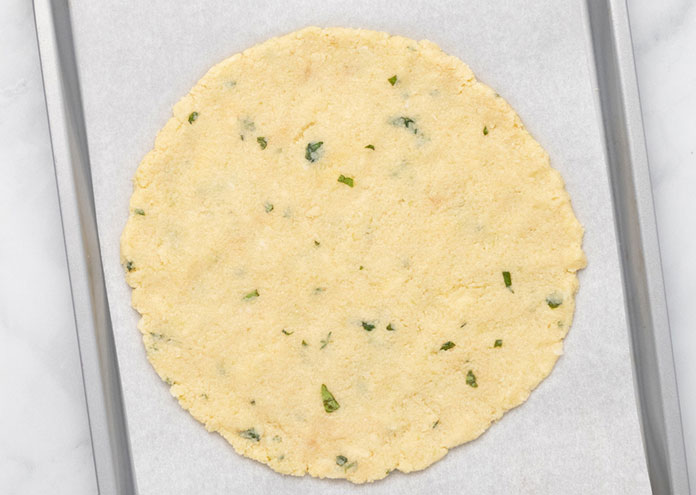 STEP #4:
Now, Bake the crust at 500 degrees F for 10-15 minutes.
Until you begin to see that nice and golden color from around the edges.
Then remove the crust from the oven and add your toppings. I decided to go with a simple margarita pizza but you can add whatever you want.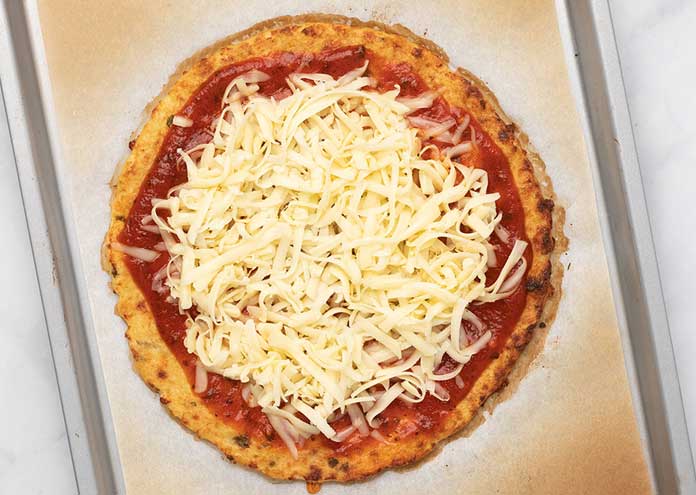 Now place the pizza back in the oven.
Then turn on the broiler for just 3-5 minutes to melt the cheese. After the cheese has melted remove from the oven and slice.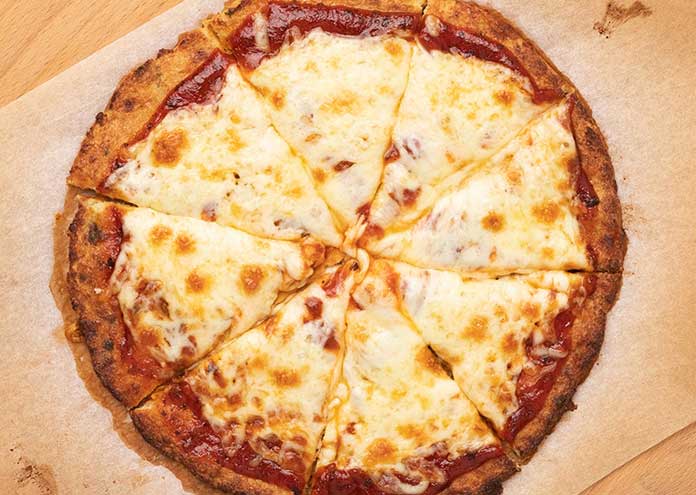 Doesn't that look amazing? this was the first time in my life I didn't feel bad eating pizza! Now, of course, this crust won't replace my usual high-carb crust but it sure is great for times when I'm on my low-carb diet.
Other recipes you might like to try: Tasty Keto Chicken Pot Pie Recipe, Delicious Roasted Vegetables, Keto Zucchini Fries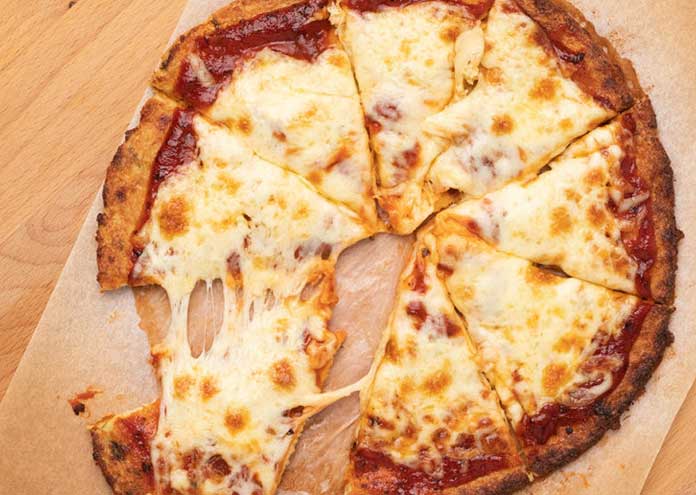 Low-carb Cauliflower Pizza
The cauliflower pizza crust recipe, with just 3 ingredients! Learn how to make pizza that you can pick up, with CRISPY edges.
Ingredients
1

small to medium sized head of cauliflower – should yield 2 to 3 cups once processed

¼

cup

shredded Parmesan cheese

¼

cup

mozzarella cheese

1

egg

¼

tsp

salt

½

tsp

garlic powder

½

tsp

basil or rosemary minced (or dry)

½

tsp

oregano minced (or dry)

1

cup

marinara sauce

1-2

cups

cups mozzarella cheese
Instructions
Preheat oven to 500 degrees F.

Remove the stems from the cauliflower and cut into chunks, Place the cauliflower into a food processor and pulse it until it resembles the texture of rice. If you don't have a food processor, you can use a cheese grater or chop it very finely.

Microwave the processed cauliflower uncovered in a microwave safe bowl for approximately 4-5 minutes on high. Remove it from the microwave and allow it to cool for at least 4-5 minutes (trust me don't rush this step!). After the cauliflower is slightly cooled, place it in a kitchen towel and squeeze all the liquid out of it. Be sure to squeeze as much liquid as humanly possible.

Combine the cooked cauliflower, egg, garlic, cheese, and seasonings. Stir until a dough texture forms. Spread the cauliflower mixture out onto lightly greased parchment paper or a pizza pan in the shape of a pizza crust.

Bake the crust for approximately 10-15 minutes (depending on your oven), or until the crust is golden and crispy. I cooked mine for approximately 15 minutes. After the crust is golden remove it from the oven and add your toppings, I used marinara sauce and cheese for a simple margarita pizza.

Place the pizza back in the oven but this time turn on the broiler, bake for about 2-5 minutes until the cheese melts. be sure to keep an eye on it because the broiler can burn the cheese quickly.

Slice and serve warm , enjoy!
Notes
Nutrition Facts
Serving: 1slice | Calories: 99kcal | Carbohydrates: 6g | Protein: 8g | Fat: 6g | Saturated Fat: 3g | Cholesterol: 36mg | Sodium: 422mg | Potassium: 335mg | Fiber: 2g | Sugar: 3g | Vitamin A: 305IU | Vitamin C: 37mg | Calcium: 150mg | Iron: 1mg