This really is the best chicken quesadilla recipe! So easy, these fajita-style quesadillas taste just as good, if not better, than any restaurant!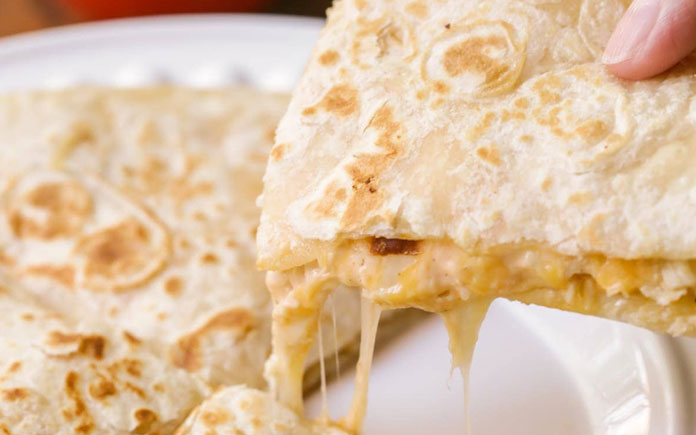 Chicken Quesadillas Recipe by Lil Luna
Whenever you are in a bind around dinner time, these quesadillas are a lifesaver! Served with a little homemade salsa and a side of Spanish rice, these quesadillas make for a tasty and filling meal! But they're also great for game-day appetizers.
Not Just An Average Chicken Quesadillas
I feel like these chicken and cheese chicken quesadillas could possibly solve all of the world's problems. It definitely solves all of my problems on a rough day. There is just something so comforting about a hot cheesy filled tortilla. Add in some chicken and you've got a full rounded meal for lunch, dinner, or a midnight snack!
Sometimes we even make these as little appetizers for dinner parties or game day watching! Cut them into little bit-sized triangles and they will be devoured in minutes!
By the way, these aren't just any chicken quesadillas. These quesadillas have a secret magic yummy sauce in the middle that takes these to another level. Who knew that a little mayo, taco seasoning, and hot sauce could be the winning combo for a quesadilla sauce? YUM!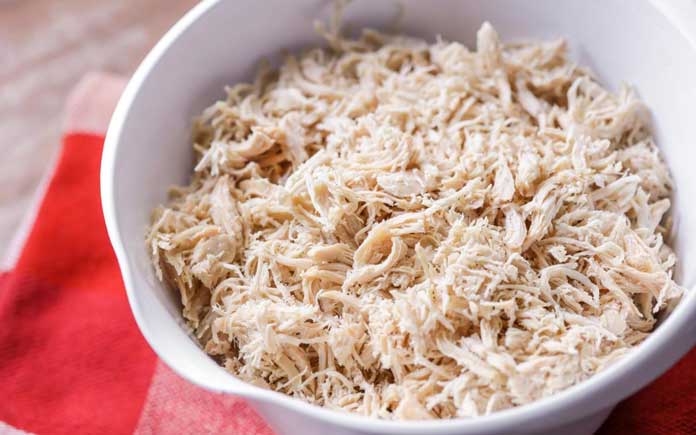 How To Make Chicken Quesadillas
I just love how easy these are to make. Perfect for when you can't decide what to have for dinner that day. I told you these quesadillas are your answer to anything!
Ingredients. You'll need about 2 cups of seasoned shredded chicken for this recipe. We love to use homemade tortillas (once you go homemade you never go back), but any tortillas you have will be great.
Sauce. Whisk together the taco seasoning, mayo, hot sauce, and garlic salt in a bowl. Spread the mixture onto one side of a tortilla.
Layer. Add your desired amount of shredded chicken and cheese to the tortilla. Add a layer of the sauce onto another tortilla and place that on top.
Microwave. Cook your quesadilla in the microwave first for about 20 seconds. This will help the cheese get extra melty.
Stove. Then place the quesadilla in a pan on the stove until it gets brown and crispy.
Helpful Tips:
Instead of cooking the stove top try using a panini press or if you're making several quesadillas, use a pancake griddle.
Instead of using two tortillas, use one tortilla and fold it in half. This makes it easier to flip in the pan.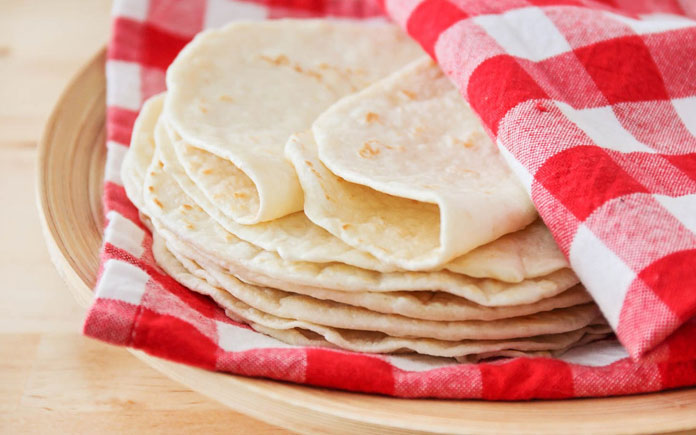 Making Ahead And Leftovers Tips
Storing. Store leftover chicken quesadillas in an airtight container in the refrigerator for up to 4 days.
Reheating. No one likes a soggy quesadilla. The best way to reheat it and still keep the outside crispy is to use a non stick pan over medium heat. When the pan is hot place the quesadilla in the pan. Heat for 1-2 minutes on each side until the cheese has melted and the tortilla is crispy once again.
Make ahead and freeze. Follow the recipe like usual. Once you have heated the quesadilla in the microwave, place them on a cookie sheet. Flash freeze them until firm. Transfer to an airtight container and freeze for up to 2 months.
To reheat, place frozen chicken quesadilla in the microwave for 1-2 minutes. Transfer to a nonstick pan and finish cooking over medium heat until cheese is melted and the tortilla is crispy.
If this post hasn't already convinced you to try this simple chicken quesadilla today, then make it ASAP! The sauce is my favorite part because all the spices mixed together made it so addicting!! And we are sure to make extra sauce to use for dipping too.
Other recipes you might like to try: The Perfect Charcuterie Platter Recipe, Keto Salmon Salad, Low-carb Cauliflower Pizza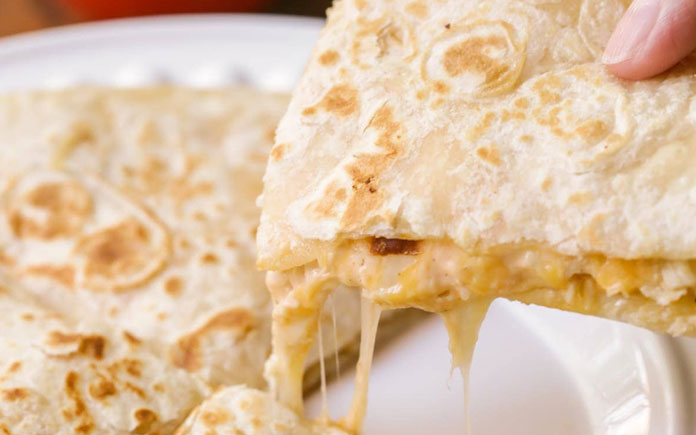 The Best Chicken Quesadilla
This Chicken Quesadilla is an easy dinner idea! Tortillas layered with juicy bites of chicken, melty cheese, and veggies.
Ingredients
1

cup

mayonaise

½

tsp

taco seasoning

¼

tsp

garlic salt (with parsley flakes)

2

tsp

hot sauce

6

tortillas

2

cups

mexican cheese

2

cups

shredded chicken seasoned
Instructions
Whisk together mayo, taco seasoning, garlic salt, and hot sauce.

Spread mixture on one side of tortilla. Sprinkle desired amount of shredded chicken on top, then cheese. Add sauce to a second tortilla and place on top.

Heat in the microwave for about 20 seconds, then put on the stove, until nice a crisp. If you have sauce left over, use for dipping!
Notes
Nutrition Facts
Calories 478 | Calories from Fat 369 | Fat 41g | Saturated Fat 11g | Cholesterol 51mg | Sodium 836mg | Potassium 85mg | Carbohydrates 16g | Fiber 1g | Sugar 2g | Protein 12g | Vitamin A 270IU | Vitamin C 1mg | Calcium 281mg | Iron 1mg