Keto empanadas feature a delectably chewy, crispy keto empanada dough, plus savory beef and veggie filling. These low carb empanadas have 2.7g net carbs each!
Keto Empanadas Recipe by Healthy Recipes Blogs
We started making this recipe after we visited Buenos Aires. Needless to say, while in Argentina, we enjoyed lots of great steaks and lots of deep-fried empanadas! Upon returning home, We just had to make them. But we wanted to bake rather than fry them, and we wanted them to be low-carb.
These keto empanadas are so good! We make them for my family once a month. The only reason we don't make them more often is that despite being relatively easy for its type, this is an involved, multi-step recipe.
Keto Empanadas Ingredients INGREDIENTS
Here's an overview of the ingredients you'll need to make keto empanadas. The exact measurements are listed in the recipe card below.
Avocado oil: This oil has a neutral flavor and a high smoke point, making it an ideal cooking oil.
Ground beef: I use lean ground beef – 85% lean and 15% fat.
Onion and garlic: Freshly minced garlic tastes best but jarred minced garlic works too.
To season: I use sea salt, black pepper, ground cumin, and smoked paprika.
Shredded mozzarella: This is the cheese used to make fathead dough.
Cream cheese: I use full-fat cream cheese in this recipe.
Almond flour: I use blanched finely ground almond flour to make the dough. I don't recommend using a coarse almond meal.
Egg: I use large eggs in most of my recipes, this one included.
Instructions Keto Empanadas
The detailed instructions for making these keto empanadas are included in the recipe card below. Here's an overview of the steps:
Make the filling. This is easy: you simply cook ground beef, onion, garlic, and spices until cooked through, then drain and set aside.
Make the dough. Make the fathead dough, then roll the dough thin and cut it into circles.
Shape the empanadas. Place a bit of filling on each dough circle, then fold over to make a half-circle and pinch the edges closed.
Bake them. Bake the pastries until they are puffy and beautifully golden-brown, about 10 minutes per side in a 350°F oven.
Some Expert Tip:
When it comes to shaping the empanadas, you have two options. One option is to place a heaping tablespoon of the beef mixture in the center of one circle. Then top it with another circle and pinch the edges closed.
The second option is to place a heaping tablespoon of the beef mixture on one half of each circle, leaving a ½-inch border. Then fold the dough over to make a half-circle and pinch the edges closed.
The second option is tastier, in my opinion, because the ratio of filling to dough is better. It also produces more of the pastries (albeit smaller ones).
The drawback to this option is that since Fathead dough is more fragile than wheat dough, the circles tend to form small tears when you stretch them over the filling to make a half-circle.
However, this is not really an issue, because (a) you'll likely have additional scraps of dough and can patch the tears, and (b) as they bake, the dough puffs, and everything comes together beautifully – no spills.
Keto Empanadas FAQ
What is the best empanada filling?
In Argentina, they were almost always filled with a seasoned mixture of ground beef, and that's how I make them too – I use onion, garlic, ground beef, and spices. It's a delicious, very flavorful filling that's great all on its own if you happen to have leftovers.
What type of dough should I use?
I use fathead dough, which is made from shredded mozzarella, cream cheese, and almond flour.
Every time I work with this dough I'm amazed at how it comes together as a real dough (albeit more sticky and harder to work with).
I am especially impressed with how well it bakes, puffed and golden and tender and so very tasty! It's a miracle keto dough.
Can I use coconut flour?
Not in this recipe. Almond flour and coconut flour are very different than each other and are not interchangeable in recipes.
Variations Empanadas:
I love this recipe as is and almost always make it as written. But in case you'd like to vary the basic recipe, here are a few ideas for you:
You can use ground pork instead of ground beef in the filling. Ground chicken or turkey are also an option, but make sure you use ground dark meat and not white meat which is too dry.
Cook the filling in olive oil or ghee instead of avocado oil.
Add some herbs to the filling, such as dried thyme or dried oregano.
Serving Suggestions:
This dish is typically served as an appetizer, and you can serve two per person. But sometimes I serve them as a main course, and then I serve three per person accompanied by an easy salad such as arugula salad, tomato salad, or cucumber salad.
Storing Leftovers:
Empanadas are best when enjoyed freshly baked. But you can keep the leftovers in the fridge, in an airtight container, for up to 4 days.
Reheat them gently, covered, in the microwave on 50% power. You can also freeze them for up to 3 months.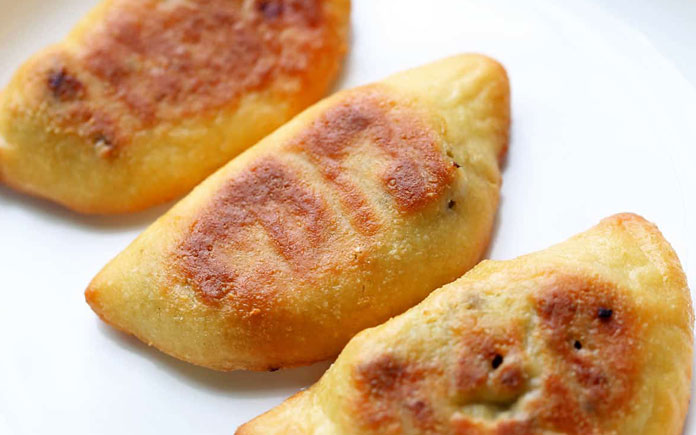 Other recipes you might like to try: Keto Corned Beef, The Best Chicken Quesadilla, The Perfect Charcuterie Platter Recipe
Flavorful Keto Empanadas
You're going to love these low carb keto beef empanadas. These empanadas are made with fathead dough and a tasty ground beef filling.
Ingredients
Filling
2

tbsp

avocado oil

½

lb.

lean ground beef

1

small

onion finely chopped (4 oz)

1

tsp

minced fresh garlic

½

tsp

salt

¼

tsp

black pepper

½

tsp

ground cumin

½

tsp

smoked paprika
Dough
1½

cups

shredded part skim mozzarella cheese (6 oz)

1

oz.

cream cheese, cubed

¾

cup

blanched finely ground almond flour (3 oz)

1

large

egg
Instructions
Preheat the oven to 350 degrees F. Line a rimmed baking sheet with parchment paper.

Heat the oil in a large skillet over medium-high heat. Add the beef and onion and cook, stirring to break down the beef into small pieces, until beef is no longer red, about 4 minutes. Drain.

Return the drained beef mixture to the skillet. Add the garlic, salt, pepper, cumin, and smoked paprika. Cook, stirring, 1 more minute. Remove from heat and set aside.

To make the fathead dough, place the mozzarella in a medium microwave-safe bowl. Place the cubed cream cheese on top. Microwave for 30 seconds. Stir with a rubber spatula, then microwave for 30 more seconds. Stir again, then mix in the almond flour as best as you can – the dough won't come together yet. Add the egg and mix well with the spatula, then use your hands to work the batter into a smooth, elastic, slightly sticky dough.

Place the dough between two parchment sheets, as shown in the video, and roll it to ⅛-inch thickness. Cut as many 3.5-inch circles as you can, using a cookie cutter or a wine glass. Re-roll the scraps and cut more circles. You should be able to get about 12 circles.

Place the dough circles on the prepared baking sheet. Place a heaping tablespoon of the beef mixture on one half of each circle, leaving a ½-inch border, then fold the dough over to make a half-circle and pinch the edges closed.

Bake the empanadas for 10 minutes. Carefully turn them over, and bake them for 8-10 minutes longer, until golden brown. Cool for 10 minutes before serving.
Notes
Notes:
Traditionally, the edges are crimped with a fork to make a pretty pattern. But I find that the keto dough is a bit too sticky for that
Nutrition Facts
 
Serving: 2empanadas | Calories: 293kcal | Carbohydrates: 6g | Protein: 18g | Fat: 22g | Saturated Fat: 7g | Sodium: 378mg | Fiber: 2g | Sugar: 2g